Basilica of Eger St John Cathedral
#ARTICLE_DATE_LETREHOZVA#: 21 February 2013 | Created: 15 June 2015
The Basilica is the only one Classicist building in Eger, the second largest church in Hungary.
It was built by the designs of József Hild from 1831 to 1836, ordered by archbishop Pyrker. The statues standing outside the cathedral are works of Marco Casagrande. The organ of the Basilica was made by company Moser in Salzburg at the end of 19th c. In the main season (15. May – 15. October) visitors can listen to organ concerts every day at noon time. The frescos decorating the domes of the church were painted by István Takács artist from Mezőkövesd, so typical folkart motives of his homeland can be discovered in his paintings.
"The heart having beaten for Eger should stay in Eger" this was the last wish of the builder, János Pyrker, whose heart is buried in the central part of the crypt of the cathedral.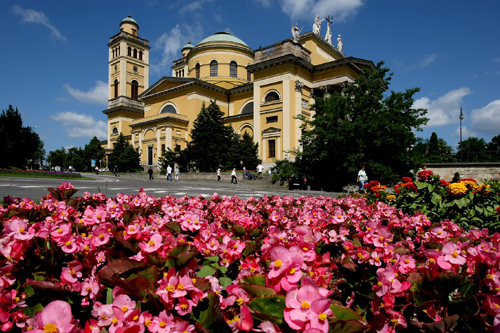 (Photo: Nemes Róbert)
Contact: 3300 Eger, Pyrker tér 1. 
Tel.:36-420-970 | www.eger-bazilika.plebania.hu | bazilika.eger@gmail.com
< back