Kopcsik Marzipania
#ARTICLE_DATE_LETREHOZVA#: 21 February 2013 | Created: 12 June 2015
Lajos Kopcsik is an internationally well-known master-confectioner, who is an Oscar award Winner, and Guinness recorder. His works goes back for several decades.
The objects made of sugar mainly represent fine arts, applied arts, folk arts, and the symbols of Eger. Thinking of children there are nicely decorated story books exhibited, as well. Visitors can see about 150 objects made of sugar-icing, for example a 2-meter-high wine-bottle, or the Minaret in miniature.
The master was really interested in a Baroque room made of sugar for a long time. Today, it is reality, where all the furniture and others (floor, wallpaper, carpet, pictures on the wall, stuccos, chandelier, stove, sofa, table, the bowl on it and the fruits in it...) are made of sugar. The sweet room took the master 3 years to make.
Lajos Kopcsik Olympic winner master-confectioner always improved his collection during the last times. His newest creations are "The dream of butterflies", which contains 62 butterflies; the "Still-life with a landscape"; and "Apron of Kalocsa".
Opening hours: Mon-Sun 10.00-18.00
Kopcsik Marzipania – Eger, Harangöntő Street 4. Tel.: +36 36/412-626
kopcsikmarcipania@evatzrt.hu, www.kopcsikmarcipania.hu
Air conditioned.
Entrance fee: adults 800 HUF, students and pensioners: 400 HUF
Combined tickets are also available, which are valid in Kopcsik Marzipania and the Bellfounder's House, in the Historical Exhibition and the Fire-fighting Museum. Adults: 1600 HUF, students, pensioners: 700 HUF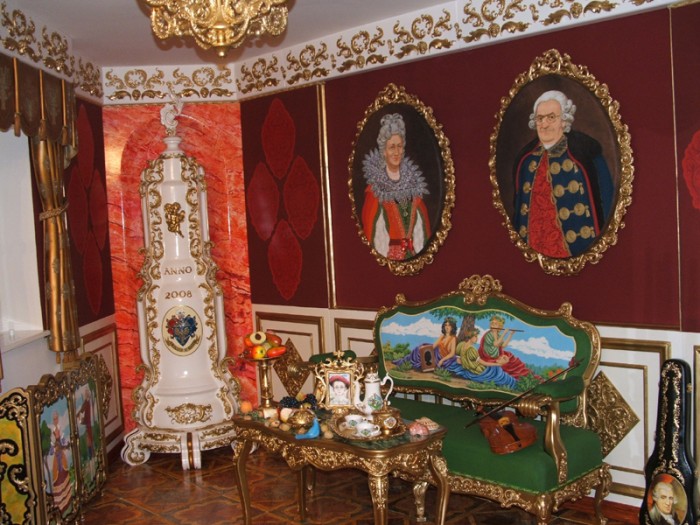 Address: 3300 Eger Harangöntő u.4.
Contact:
www.kopcsikmarcipania.hu | Tel. 36/412-626 | Fax 36/516-449; 36/516-017 |
E-mail: kopcsikmarcipania@evatzrt.hu
< back