Lyceum – Károly Eszterházy University College
#ARTICLE_DATE_LETREHOZVA#: 21 February 2013 | Created: 15 June 2015
Lyceum was built from 1765 to 1785. The original designs were made by József Gerl than it was completed by Jakab. The institute got its name by its founder, episcop Károly Eszterházy.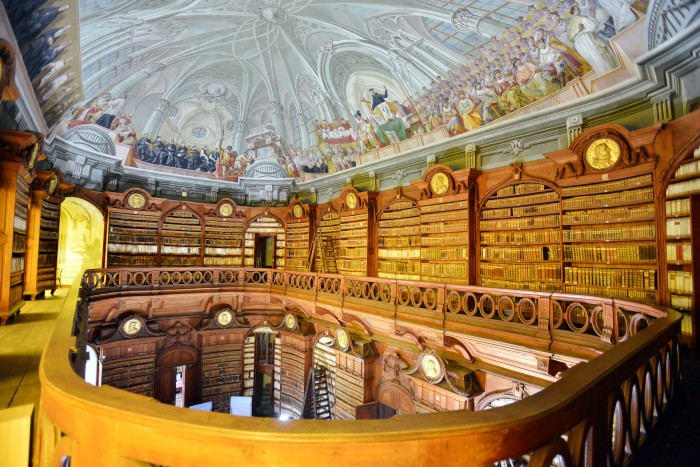 Diocesan Library and Specule Observatory Tower
The late-Baroque building is impressive already in its dimensions, it is a square shaped construction with a nice inner courtyard. In the first floor can be found the Main-Hall, its huge ceiling fresco was painted by Franz Sigrist depicting the four planned faculties of the university. Wlaking from here to the left we get to Diocesan Library. Its Baroque style oak furniture was made by Tamás Lotter joiner from Eger, and the ceiling fresco depicting Trident Council was painted by János Lukács Kracker and his student Józseg Zach. the original collection of 20000 books was intended to be for the university libraray. The collection has been increasing, now there are162800 volumes in about 30 different languages.
In the library can be found the manuscript of the letters of  Hungarian Kelemen Mikes, Buda Cronicle from 1473, Turoczi Cronicle, the only one letter of Mozart available in Hungary, signed by the composer. The third big hall of the Lyceum is the chapel the ceiling fresco of which was painted by Anton Maulbertsch in 1793. If we rise to the Magic Tower we can find Astronomy Museum and a curiosity, Camera Obscura, "the eye of Eger" from where everything can be seen happening in the town.
< back