Servite Church of Eger
#ARTICLE_DATE_LETREHOZVA#: 21 February 2013 | Created: 18 June 2015
The Servites coming from the Austrian order settled in Eger after the Turks had left the town.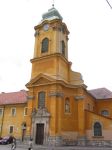 They also revived the traditional religious procession in honour of Mater Dolorosa according to the spirituality of the order. The monastery and church in Eger is the only one of the eight belonging to Serves Mariea (Servants of Mary)order, where both monks and nuns work.
The church was built in 18th c. in Baroque style: the building was built in 1728-32 and the towers in 1754. During the construction walls of the former Turkish mosque and school were embedded, too. The monastery was completed in 1780.
Contact:
3300 Eger, servita u 21. | Tel.:36-313-687 | www.egriservitaplebania.hu | gyula.lengyel@gmail.com
< back