Turkish Bath– Beauty, health, tradition
#ARTICLE_DATE_LETREHOZVA#: 21 February 2013 | Created: 18 October 2016
Once upon a time there lived a prophet, named Mohamed.
Mohamed believed regular bathing is good for fertility– and as he wanted to have more and more followers, he ordered his people to go to a bath once a week and have a proper bath.

There was a Turkish pasha, Pasha Arnaut, who had a beautiful spa with golden cupola built in our town, so that Mohamedans could have bath and pleasant conversations. This wonderful spa is still here, although after several renovations, and is still awaiting its guests with six pools, and high-quality wellness and healthcare-services.

The thermal water containing radon springs under the stones can be seen at the bottom of three pools: the Turkish pool, the "Mirror pool" and the "Sparkling pool" (that has been named after the neverending stream of bubbles coming up in the water). There are three more pools in our Spa, all equipped with the most up-to-date entertainment elements.

The medical effects of the thermal water in the Turkish Spa is due to its slight radon solution, that reduces inflammation and boosts the endorphin-production of the body, having a positive effect on our mind as well. The gentle ionizing radiation supports the regeneration processes of the cells too.

SERVICES: AROMA-CABINS, INFRA-CABINS, VAPOUR-BATH, SAUNA. Turkish hammam massage.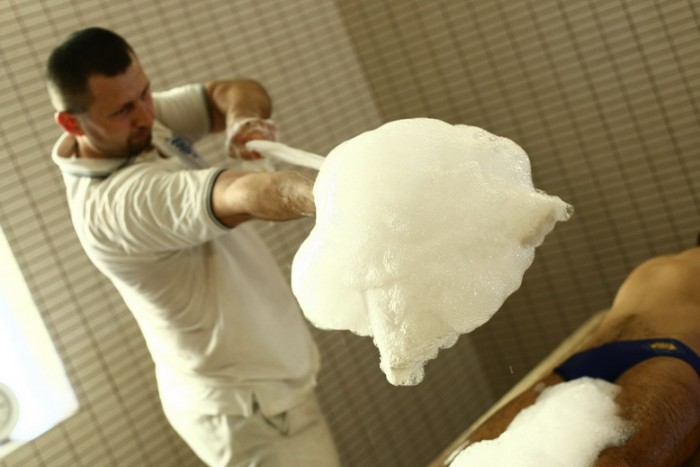 Contact:
Török Fürdő: Hungary – Eger, Fürdő u. 3-4.
E-mail: torokfurdo@egertermal.hu |Tel: +36 36 510-552 ; + 36 36 510-553
Egri Strand és Termálfürdő: Hungary – Eger, Fürdő u. 3-4.
E-mail: info@egertermal.hu | Tel: + 36 36 510-558 ; +36 36 510-559 | www.egertermal.hu
< back